This being my last Funny Foto Friday for a while I thought I'd give you all a laugh on my expense. Above is me about five years ago in Arizona... I'm such a photogenic fellow, aren't I?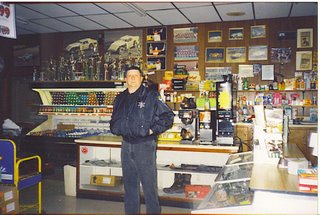 And here's one for those "Chicks who dig guys in uniform"... Me, standing in front of the Deli Mat owner's son's "I Love ME" wall... And hard at it deterring crime in Athens, WV...
Always the ham, especially when frosty adult beverages are found readily available... Here I am picking a booger out of a fake buffalo head's nose in a bar in Oatman, Arizona.
And here's another for those chicks who dig guys is uniform, my 'official' fire department portrait... And as you can also see from this photo and the one above, I actually DO have all my hair... Not even receding, thank you very much!
And here's the one I'll use when I ask a woman if she wants to see a picture of my
Big Bazooka
... Proof that I really do have a Big Bazooka!
Happy Funny Foto Friday!
Copyright 2006 Thomas J Wolfenden