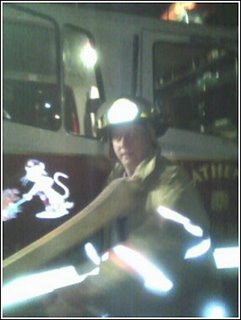 Yesterday evening I got to do what I really hoped I'd never have to do.
I had off last night from work and was bored with really nothing to do so I walked over to the firehouse around 3 PM just to watch a little TV. Some of the other guys were out putting up Christmas lights on local businesses so some of the trucks were gone and I had the run of the TV room. Shortly after I got there another member arrived and we both settled down with coffee to watch TV Land.
Around 4:30 PM we were paged out for a structure fire and we both rushed down and donned our bunker gear and jumped on the truck. Soon after two of the officers arrived and we headed out, called dispatch to page out another fire department for assistance.
We arrived on scene soon after and it was there again I saw calm professionalism. The two other guys I was with quickly went to work along with the four other members who arrived POV (personally owned vehicle) and the second fire department. The house's second floor was fully involved with thick black smoke rolling out of both soffit vents.
I really couldn't do a whole lot because I'm not a certified firefighter yet, but learned a lot about the operation on the pumper and water transfer systems from the town hydrants and stuff. After the fire was contained and most of the house vented the LT called for me to head into the house and along with them I assisted in the removal of debris and pulling down still-smoldering debris. I was amazed at the amount of things still hot and on fire after so much water was pumped into the house.
As I said before, I was truly impressed with the guys on the squad I'm with and feel privileged to be working with them. We got the fire fully under control were safe to head back to the house around 11 PM.
The only thing that really went wrong was that the hydrant at the end of the driveway didn't work, and we had to run a 5" line down about 500 yards to another one located on the opposite side of Rt. 20, effectively blocking north/southbound traffic for almost three hours. Traffic was backed up all the way into Stafford Drive in Princeton, WV... I can't explain what a total clusterfuck that must have been, but Kat would know. Nothing moved north or south in southern WV locally for about three hours.
I'm not going to write about every call I get now with the FD as that would get tiring but I had to write about this one because it was my first, hopefully my last. I hate to see people's property and lives destroyed like this. It's a bad enough time of year for a lot of folks anyway, but it always seems this stuff happens around this time of year.
One of the guys did snap a few pics of me in action on his cell phone so I posted them... RT in action!
I hope you all have a safe day!
Copyright 2005 Thomas J Wolfenden